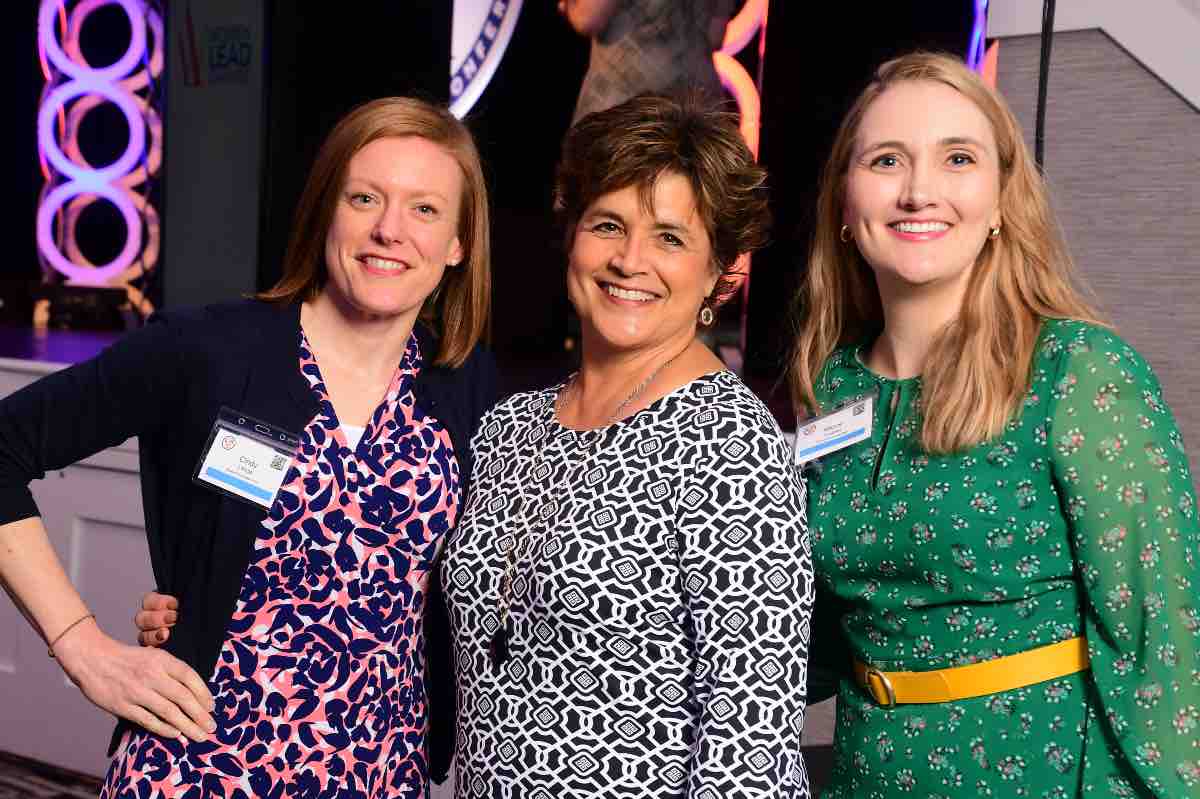 Tiffany O'Donnell, Chief Executive Officer and EPIC Co-Chair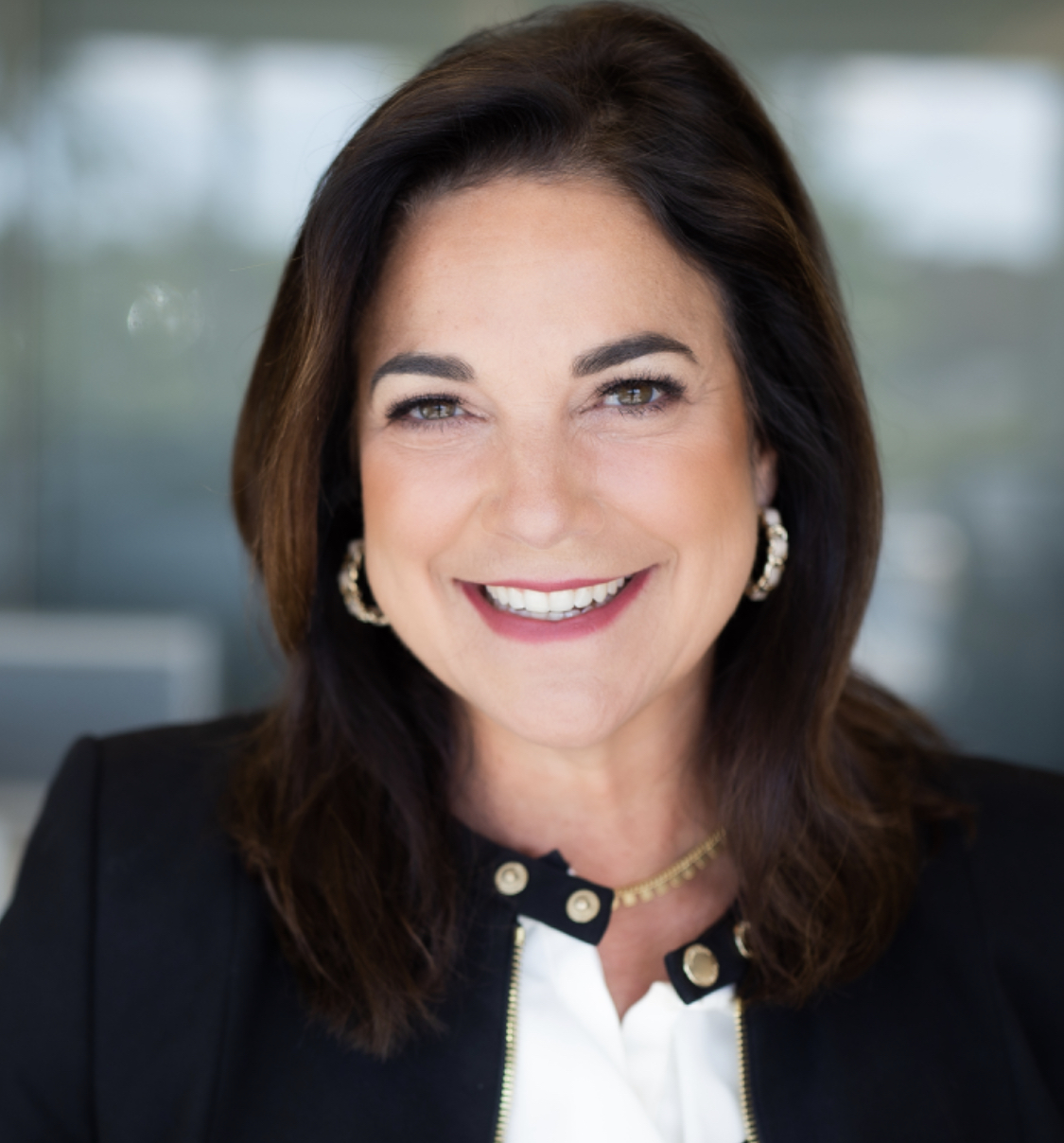 Since joining the organization in 2015, Tiffany O'Donnell has led the expansion of the organization's scope and reach, most recently reflecting that growth through a brand change. The organization, formerly called Iowa Women Lead Change is now Women Lead Change. Under her leadership the Iowa-based team is now in five locations with offices in the Quad Cities, Cedar Rapids, Cedar Falls/Waterloo, Des Moines, and Sioux Falls, SD.
The organization's leadership development curriculum is now utilized beyond Iowa's borders, extending across the country and, in at least one case, in the U.K.
You may know Women Lead Change by its hallmark annual conferences that bring in world-class speakers and newsmakers. However, Women Lead Change has grown into so much more than an annual conference funding critical research, facilitating strategic leadership development programs like Women Connect and the EPIC Corporate Challenge, creating the Women of Achievement Bridge Awards and, most recently, launching a 12-month leadership intensive called the Ascent Leadership Program.
Tiffany is also the Mayor of Cedar Rapids and host of the Women Lead Change podcast, "Own It."
She is the mother of two daughters and married to husband Michael for 31 years. AND, though none of her family members say they want to be a passenger, she has her private pilot's certificate.
---
Diane Ramsey, Co-Founder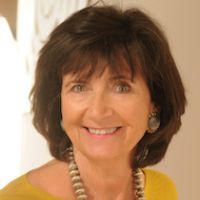 Diane Ramsey, Co-founder and former CEO of Women Lead Change, has a track record as a leader, collaborator and innovator. She retired from the organization in 2017 and now serves as an advisor to Women Lead Change.
Under her stewardship, IWLC grew from a grassroots-driven once-a-year event to a 501(c)(3) leadership organization that hosts conferences, underwrites research and advances organizational and individual development. Ms. Ramsey introduced Women Lead Change's CEO Forum, Student Track and Invest in She programming.
In 2010, Ms. Ramsey founded Corridor Women Connect. She is a founding member of the Women's Leadership Project, a statewide consortium that produced the She Matters: 2012 Status of Women and Girls in Iowa report and subsequent follow-up initiatives.
Ms. Ramsey's prior experiences include Rockwell Collins and 15+ years with Alliant Energy leading economic and community development, its sales and strategic accounts business and communications and strategic affairs. Her experience in marketing and advertising includes retail, consumer and B to B at the client and agency level – including Hy-Vee, Square D, and Budget Rent a Car's national and regional programs.
She is a trustee for the Millicent Rogers Museum in Taos, NM, a founding member of Invest to Elect Women New Mexico and a national delegate for Vision 2020 (a coalition of organizations and individuals committed to achieving women's economic and social equality). Throughout her career, Ms. Ramsey served on statewide and community boards including The Iowa Business Council Deputies (Chair 2010), Professional Developers of Iowa, Forward Wisconsin (chair, 2009), the Four Oaks Board of Directors (2011-2012, chair), Corridor Women Connect Board of Directors (chair 2010-2012) and Theatre Cedar Rapids Boards of Directors (2003- 2005 Chair) and Trustees, St. Luke's UnityPoint Foundation Board of Directors, Waypoint Services Boards of Directors and Trustees and the National Czech and Slovak Museum and Library.
In 2009, the Corridor Business Journal recognized Ms. Ramsey as a Woman of Influence. Waypoint recognized her as a Pillar of the Community in 2011. In 2013, the Women's Equality Coalition of Linn County honored her as Woman of the Year.
---
Bobbi Segura, Regional Manager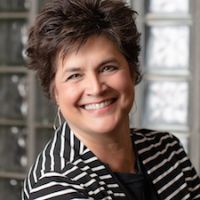 Bobbi Segura lives in Des Moines and has been actively involved in the business and nonprofit community in Central Iowa. For the more than 20 years, Bobbi was a business owner and entrepreneur in the field of marketing and business development.
She founded B. Segura Consultants in 2008, and was a partner/member of Plum Communications, LLC, a collaborative group of writers, designers and marketing entrepreneurs who worked together to provide communications solutions. She was co-owner of Designgroup, Inc., an award-winning graphic design firm with a long history of creating marketing materials for local, national and international clients.
Bobbi Is a graduate of Leadership Iowa and and currently serves on the ABI Leadership Iowa board of directors. She has been involved as a leadership volunteer of several national and local non-profit organizations including Women Lead Change, NAWBO Iowa, St. Catherine of Siena Foundation, Central Iowa Chapter of the American Red Cross, American Red Cross Midwest Service Area Resource Council, American Red Cross National Committee on Nominations, and Des Moines Carousel Foundation. She is an alumni of the Greater Des Moines Leadership Institute.
---
Morgan Schmall, Director of Operations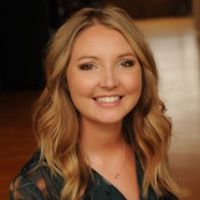 Morgan, a native of Fairfax, Iowa is the Director of Operations for Women Lead Change based out of Cedar Rapids. She is responsible for the day to day operations, overseeing the event planning and managing the WLC event staff. She brings with her a passion for creating efficiencies, creating a culture for the team that lets everyone thrive and bring forth innovative ideas, and her past experience and education as a Paralegal.
After her husband was volunteered to attend a Women Lead Change conference by his employer, she became passionate about the mission and values of the Women Lead Change team, so when a position became open, it was the perfect fit.
Morgan is a Leadership Five Seasons alumni, Ascent Leadership grad, and a Certified Nonprofit Professional.
A big champion for working mothers, she spends her Monday's and Friday's working with her two young sons at home. On most weekends you can typically find Morgan drag racing with her family at race tracks all across the Midwest, a sport in which she has competed in since she was 9 years old.
---
Mackenzy Caligiuri, Marketing Coordinator
Mackenzy is the Marketing Coordinator based out of our Des Moines office.
Mackenzy is a graduate of the University of Iowa with degrees in Journalism and American Studies. During her senior year, she served as Daily Iowan TV News Director. Under her leadership, the organization was awarded the 2019 College News Station of the Year by the Iowa Broadcast News Association.
Mackenzy also teaches dance at the studio where she was a student for 15 years. Outside of work, Mackenzy enjoys traveling, camping, watching Hawkeye Football and spending time with her husband and daughter.
---
Jade Ploessl, ICR Program Coordinator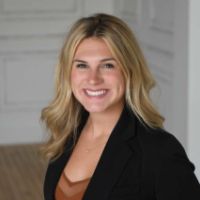 Jade Ploessl first became passionate about Women Lead Change after she spoke as a panelist at the 2019 Dubuque Conference. She now works at Women Lead Change as the ICR Program Coordinator and lives in Cedar Rapids. In addition to her job at WLC, she is the assistant track and cross country coach at Cedar Rapids Prairie High School. Jade also runs her own business, Romagna Performance, LLC, where she works as a certified mental skills coach assisting youth athletes in gaining confidence and present moment focus to reach peak performance.
Jade is a native of Dubuque, IA, and a graduate of the University of Dubuque with degrees in Criminal Justice and Business Administration. While at the University of Dubuque, she was a member of the cross country and track teams, achieving two school records. Forgoing her final year of eligibility in athletics, Jade focused her energy competing on the mediation team, twice achieving All-American honors. Her success in the program was further rewarded with her published independent research on "The Socioeconomic vs. Racial Impact of Driving Under Suspension."
Outside of work, Jade can be found at Lake Delhi with her family or on the bike trails with her husband Corbin.
---
Becky Alpen, Quad Cities Outreach Coordinator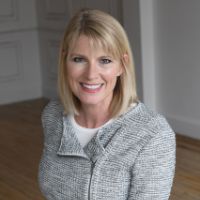 Becky Alpen is a native of Muscatine, Iowa, currently living in Davenport, Iowa. Becky is excited to take on a position as the Quad Cities Outreach Coordinator for Women Lead Change.
Becky has been working in the "medical world" for 90% of her work life. She has been in leadership roles at the Mayo Clinic in Rochester, MN for 10 years, worked for Denver Eye Surgeons as HR/front office Manager for another 10 years in Denver Colorado, then back to the QC area at a local medical office. She is excited to bring to the table her leadership highs and lows throughout the years as well as meeting strong minded women in the community.
Outside of work Becky and her husband enjoy biking, gardening, laughing, movies, one grandson (we sign up for more anytime) and a very loved goldendoodle Stella.
---
Paola Ayers, Event Coordinator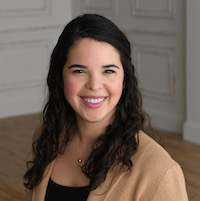 Paola is an Event Coordinator for Women Lead Change based out of Cedar Rapids, Iowa. An Iowa State University graduate with a degree in Landscape Architecture, the coordination sector perfectly complements her passion for creativity and attention to detail.
As a small business owner of Pikosa Jewelry, she sells handmade demi-fine jewelry and has firsthand experience of how women can thrive in their professional and personal lives when given the right support and tools for success.
Originally from Puerto Rico, Paola loves to head back to the island during holiday breaks and visit family. In her spare time, she enjoys the outdoors and exploring what the city has to offer with her husband and two kids.
---
Jordan Colton, Event Coordinator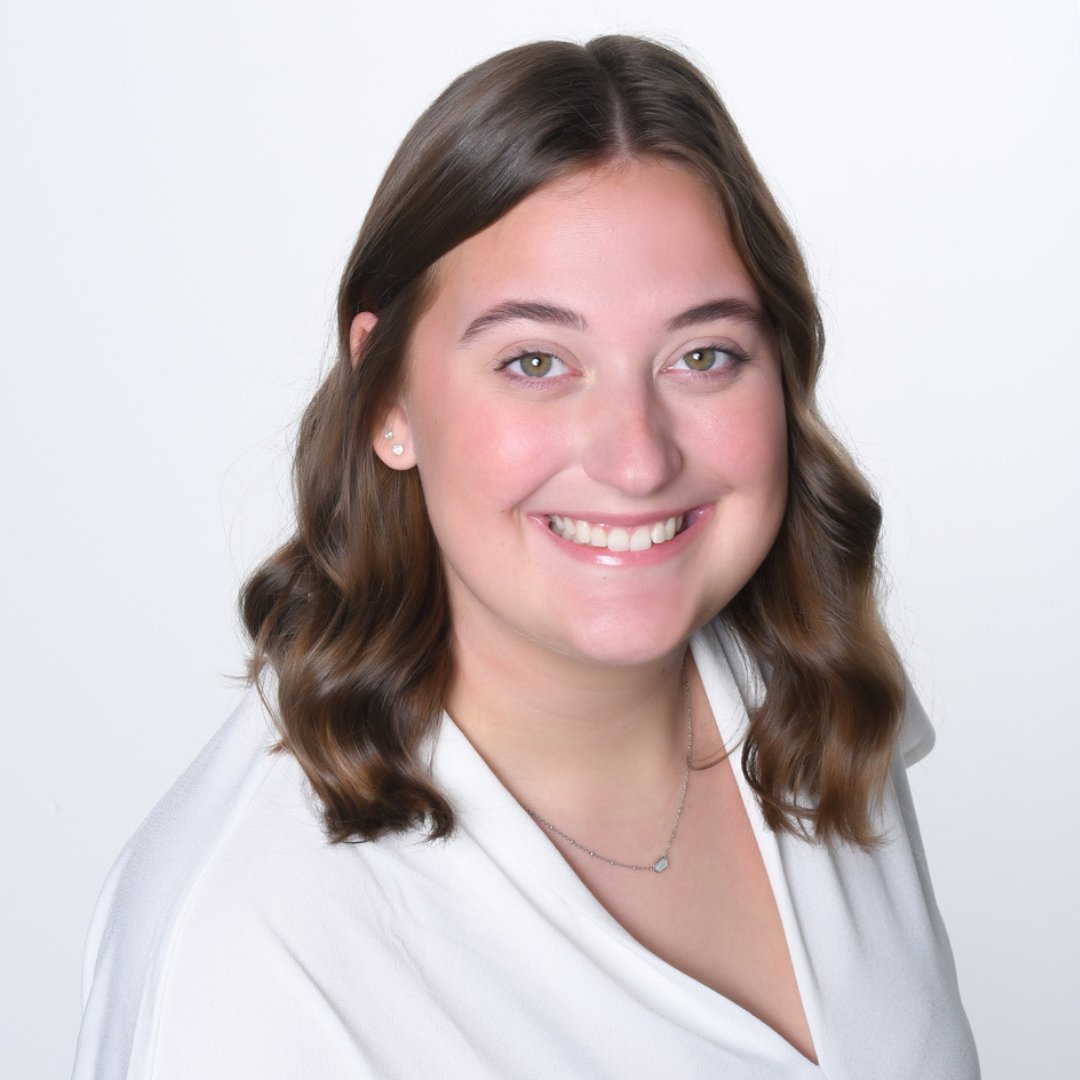 Jordan is an Event Coordinator for Women Lead Change and is based out of the Cedar Rapids office. She has always carried a deep passion for the professional development of women and is ecstatic to have joined such an inspiring and successful team.
Jordan is a graduate of The University of Iowa Tippie College of Business where she received her B.B.A. in Marketing Management. Throughout her junior and senior years she was accepted to The Marketing Institute where she completed several marketing consulting projects for clients like The Western Iowa Regent Resource Center, The Frank Business Communication Center, and the Iowan cities of Sabula, Bellevue, and Preston. She was also a proud member of Women in Business at The University of Iowa. Through her involvement in the organization she was able to join a group of like-minded young professionals to better the experiences and opportunities for women in The Tippie College of Business.
Outside of work, Jordan enjoys music and theatre, going to community events, trying new fitness classes, and spending time with her family and cat, Descartes.